January 26, 2016 1:52 am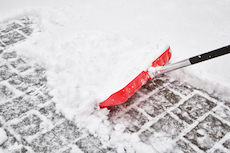 'Tis the season for snow in many parts of the country—and if you're a homeowner, you know cleanup can be a challenge. Whether your area is expecting two inches or two feet of accumulation, keep in mind these snow removal safety tips, courtesy of the experts at Troy-Bilt®:
1. Don't skimp on safety.
Snow and ice often create dangerous outdoor conditions, so take as many safety precautions as possible. Make sure you're dressed appropriately before heading out into the cold, and always reference the owner's manual of any snow removal equipment you may be using.
2. Be prepared.
Watch the forecast and what's happening outside. If snow starts to fall quickly and sticks to the ground, try to keep up with snow removal as best you can.
3. Know your surroundings.
Outline designated clearing areas with stakes and colored flags prior to snowfall. The stakes serve as directional guides during cleanup to help you stay on task and from damaging parts of your property.
4. Shovel smart.
If you're using a shovel to clear snow, be mindful of how much strain you place on your back and legs. Improper motion can leave you with pulled muscles or other physical aches after cleanup.
5. Move snow wisely.
Be aware of where snow is being thrown from your shovel or equipment, as it can throw small debris and cause injury. Avoid throwing snow into the street or in the direction of bystanders at all times.
Source: Troy-Bilt®
Published with permission from RISMedia.